The Case for Human Resource Systems in SMEs
The last decade has witnessed small and medium enterprises showing an exponential growth and impact on the country's economy. They have become a significant source of employment and are thriving in an increasingly open business environment.
IN3X (Inqubex) Consulting has collaborated on a range of Human Resource related services with such businesses, of which many are in the nascent stages of their growth. These organizations are grappling with unique requirements such as:
– Alignment of promoter values and the overall values of the organization and its employees
– The need for efficient utilization of limited resources (Multi-skilling and multi-tasking to improve productivity)
– Specific capability building requirements linked to the organizations' mission
– The reality of working within unique and untapped markets
– Attracting, retaining and managing people who directly impact the achievement of the organizational objectives
In our work with these organizations, we have facilitated setting up HR processes and systems to help streamline people management process operations. In our experience, we have observed a growing need for professionally managed teams while maintaining the 'personal touch' which has been a core aspect of these growth stories. Such a transition involves the setting up of systematic, transparent and uniform processes to make operations more sustainable. In this regard, our approach has always tried to balance between bringing in requisite tools and processes, and customizing these keeping in mind the nature and unique needs of the client. In one of our most recent engagements with such an organization, the client was looking to expand its operations and support this growth with robust people processes. They were keen to establish an Integrated Human Resource Management System in order to professionalize their people management practices and provide an impetus to their next stage of growth.
The IN3X (Inqubex) Approach to Developing HR Systems for SMEs
In this case, we began with interactions with the Client Leadership team to understand the business context, organization structure, specific challenges faced and the people management priorities linked to the organizations goals. We studied these areas in depth and explored how creating HR processes could positively impact objectives.
These interactions were used to identify unique roles/ positions in the organization and served as an input for developing Job Descriptions, which were further validated by the employees themselves. Job Descriptions elucidate the roles & responsibilities and the key performance indicators (KPIs) for each position along with the logical cascading of organizational goals and performance measures down the organization hierarchy. Clearly defined Job Descriptions also help to streamline hiring and ensure role clarity across the organization.
The KPIs enlisted in the Job Descriptions formed the basis for the Performance Management System (PMS). This system would involve four major phases beginning with goal-setting, followed by mid-year and annual reviews and ending with development needs identification. The Performance Management System that we devised for the client linked individual performance to the organization's performance. The system served to assess employees in a transparent, consistent and objective manner and also helped identify individual training and development needs aligned to current and future opportunities.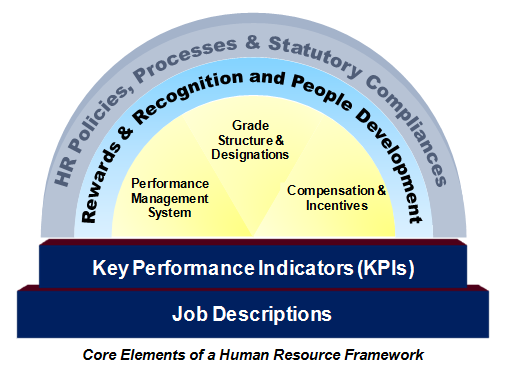 A critical aspect of the HR system we put in place was defining a grade structure for compensation using the Inqubex Job Analysis methodology. This helped establish the relative contribution/ worth of each job in the organization. We also reviewed the client's compensation framework to design compensation ranges that would ensure internal equity, be compliant with legal norms and assist in consistent compensation decision making going forward. With an aim to motivate and retain their staff, we reviewed and suggested annual and monthly incentive schemes.
We also looked through the client's HR policy manual with a view to drive consistency and uniformity of the organization's message. Thus, we designed an employee handbook for the client that was comprehensive yet reader friendly. The Handbook enlisted the various HR policies and processes in keeping with all applicable statutory and labor law requirements. The handbook also included sections on the induction & orientation program for new joiners and non-monetary recognition programs that would help employees identify and align to the organizational mission and goals.
The Integrated HR System designed by IN3X (Inqubex) was very well received by the client and they have adopted our recommendations for implementation in a phased manner. We have facilitated orientation workshops for their top management and team leaders to create awareness and buy-in for the system across the organization. The client is currently in the process of sharing the Job Descriptions and implementing the KPI and goal-setting exercises for the present financial year. We continue to be involved in supporting and monitoring progress of the implementation.
In Conclusion
The example shared above provides an illustration of our approach to helping clients create a basic, scalable HR framework which can be deployed to manage people in a transparent manner, thus reducing ambiguity and subjectivity on key people processes across the organization and enhancing engagement levels.
Once these elements are in place, organizations often continue to partner with us to explore specific HR interventions based on their capability requirements and changing business needs. These interventions are viewed as an investment for future growth as they help address key strategic objectives such as retaining talent, developing staff for future roles, driving behavioral changes and standardizing critical processes.
Our work and experience with small and mid-sized organizations have been mutually rewarding. On the one hand, we have derived value by working closely with entrepreneurs and leaders, in the process visibly impacting the growth paths of their organizations. And on the other, our client organizations have benefited, and continue to gain from an objective assessment of their needs and subject matter expertise on effectively managing their key organizational asset – people.
Social Share